We are Walk-in Tub Specialists.
Our mission is to serve as a reliable resource for Walk-in Tubs and help people stay independent and bathe safely at home. Financial Assistance
Walk-in Tubs are designed to offer accessibility and safety with all of the added benefits of a spa, they are quickly becoming a popular option for several homeowners across the country, and this is why it is the best option for you or your family member.
Walk-in Tub provides users with a small clearance, so that way, you can step into and out of your shower without having to worry about slipping and falling.
For those who are older or have some type of limitation, this tub provides them with the perfect range of functionality and independence in their bathroom.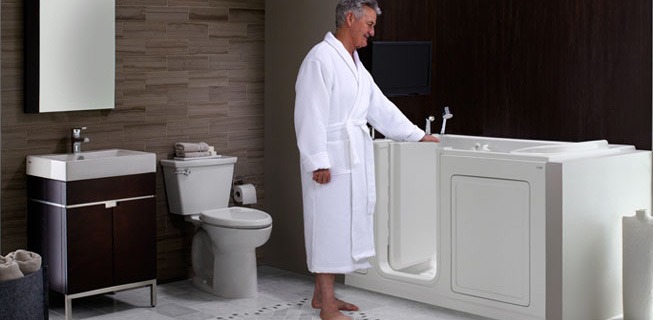 All you need to do is open the door and step into your walk-in tub. Position yourself securely on the seat and begin filling your tub with water.
The door forms a seal to help prevent any water from leaking into the bathroom. After you are done bathing, you drain the water and step out of your tub. Slip and fall accidents are a thing of the past with one of these tubs on the list.

Walk-in Tubs are the best type of tub to prevent falls
Eighty-one percent of all deaths from falling were in those ages 65 or older. Among those who are over 65 years of age, falls are the main cause of injury-related deaths. Those who are not fatally injured from their fall are the most common type of admission into the hospital for trauma.
More than one-third of the elderly population is admitted to the hospital due to an incident in their bathroom. To prevent falls in the bathroom, this is the best solution for your home. These tubs allow secure and safe access for those who are disabled or elderly.
Thanks to the walk-in bathtub, you will not have to worry about any slip-and-fall accidents around your home.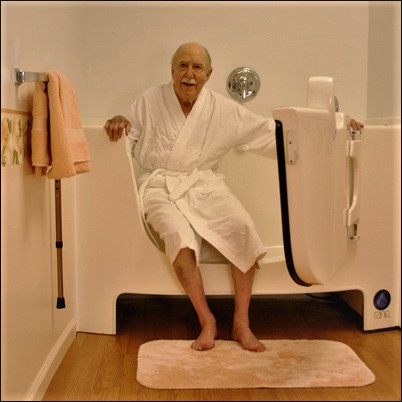 The Tub features a non-stick surface to help prevent any slippery surfaces when trying to enter or exit the walk-in tub. Since the tubs have grab bars, you will be able to pull yourself into and out of the tub with ease.
Traditional bathtubs have a 12-inch clearance for stepping into and out of them.
Walk-in tubs with low step-in heights make them easily accessible for anyone. You don't have to worry about lifting your leg high off the ground to get in, it will help to minimize the likelihood of losing your balance and falling over.
Many people are not able to stand in their tubs to bathe, which is where the ADA compliant seats come into play. You will be able to sit on the 17-inch seat and relax while soaking in the walk-in tub.
Since the seats have a non-slip coating, you will not have to worry about sliding off your seat and struggling to get back up again.
Available in a variety of different styles, colors, and sizes, it is easy to find the one that is going to work in your current bathroom space. Depending on the tub you choose, you can get air massage, whirlpool jets, and some other options for added benefit.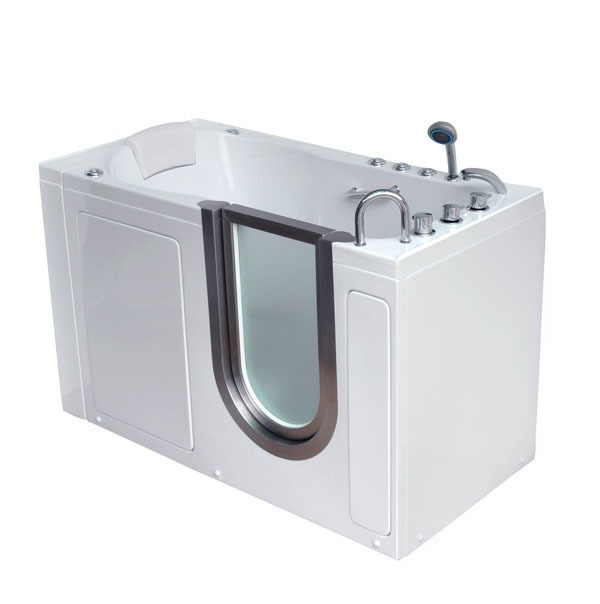 Long gone are the days of struggling to bathe. These tubs have transformed how the elderly population can take a bath in the comfort of their own home.
Just about everyone has seen the commercials about individuals falling in their showers. The last thing you want is to become another statistic. Take control of your bathroom situation and install one of these to ensure you are protected for years.
You can get more information about what a walk-in tub is explained here.
What is the height of the Tub's entry threshold?
What the Tub is built on— a steel frame or frameless?
What is actual drain time?
Does the warranty include the door seal?
How much costs walk in tub
Installation (involves electrical, carpentry, and plumbing)
How Does a Walk-in Tub Work
When it comes to a tub, you will need to be inside the Tub before turning on the water. You simply open the door and step over the four-inch step to get into the Tub. As soon as you are seated inside the Tub, you can turn the water on and begin filling the Tub.
Walk-in tubs has a watertight seal on their doors that is compressed when the door latches. Once you have water added into the Tub, it will help to compress the seal on the door, even more, to prevent any leaks from occurring.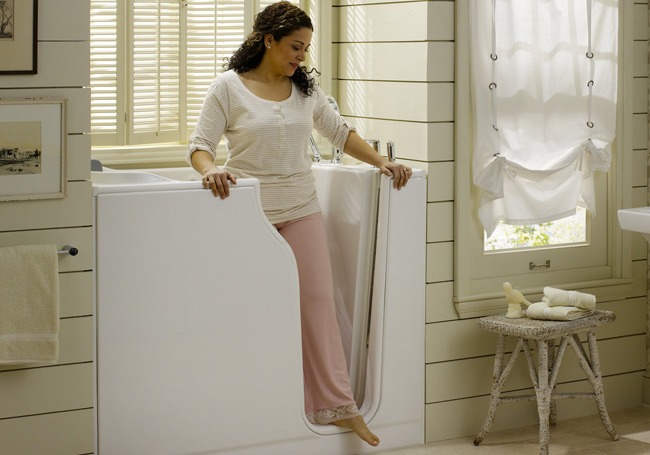 Walk-in Tubs is only for seniors?
Most of the time is used for those who are disabled or elderly. Since the tubs have a four-inch clearance, it makes it relatively easy for the user to step into the Tub. Thanks to the grip bar, non-slip coating, and seating, you will not have to worry about sliding upon entering or exiting the Tub.
For those who are in a wheelchair, this Tub is perfect for being able to relax in the comfort of the spacious seat without having to worry about how to cleanse yourself.
One of the biggest benefits of a walk-in tub is an increase in safety. Not only are you going to feel safe and secure getting into and out of your tub, but also you will not have to worry about sliding around once you are settled into your tub.
The anti-slip pads help to ensure the floor and seating are well taken care of for you. You will also be able to use the handle to help you use your tub to its full capacity. Another great benefit to these tubs is that they help to maximize the amount of space you have in your bathroom.
You can choose a style, color, and design that will provide comfort, relaxation, and space in one convenient product. Instead of being limited to what you can do in your bathroom, you will be able to use your space in its intended manner.
You have the freedom to choose the features and designs for your new tub. Regardless of whether you want a standard tub or something with spa-like features, you can decide which one will work for your individual lifestyle and budgetary needs.
Depending on the size, style, and coloring you desire, you can quickly and efficiently transform the look and feel of your bathroom.
If you have healthcare plans like Medicare or Medicaid you can see more about this in the links.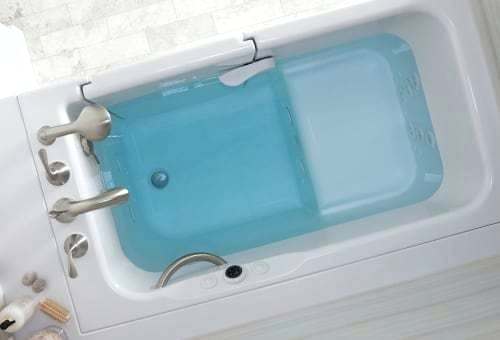 Normal Tubs Versus Walk-In Tubs
Standard bathtubs can be quite expensive to install. You can expect to spend a few thousand dollars getting one of these items installed in your home. Even though you may be able to stretch out and relax in the Tub, you have to consider the various models you plan to install around your home.
Some of the models are too heavy for your individual flooring structure, so you need to take that into consideration beforehand. Depending on your individual bathroom layout, you may be limited in the choices of tubs for your home. One of the best solutions you can get is a walk-in tub with shower combo, which offers every in one place.
They are perfect for those who have a limited range of mobility. Regardless of the layout of your bathroom, you can choose one of these tubs to help accommodate your space. Since they come in a number of different sizes, shapes, and designs, you will always have a tub that is going to work perfectly for your home.
Depending on the model tub you choose, you can get a tub that has all the features of a spa.
Not only are these tubs amazing, but you also have a full range of options to help accommodate your lifestyle and budgetary needs. You have some options to choose from, but you have two companies that are on top of the market, that is Kohler which offers a premium walk-in tub (best-quality) and Safe Step Walk-in Tub which offers one of the best prices in the market.
American Standard is a well-known brand in the bathroom fixture market, with a reputation for high-quality products and industry-leading warranties. You can see the average cost of American Standard walk-in tub and they have a wide selection of alternatives, including all-in-one models with spa-like features.
Walk-in Tub Installation Process
The installation process varies accordingly, but on average, the following steps will help to ensure the process is completed properly:
Determine the size tub you want for your bathroom. If you already have an existing bathtub, you will need to have it removed beforehand. It is imperative that the contractor knows where the access hole is for your plumbing, which is normally directly behind the bathtub. In the event your bathroom doesn't have an access hole, you will need to have a hole cut for one.

Before removing any of the fixtures, the water will need to be turned off for the entire home. The external plumbing will need to be removed next. Your drainage plug will need to be unscrewed and the caulking seal will need to be broken with a knife.

Piping will need to be addressed and determined if it will work for your new Tub. If the piping doesn't match the layout needed for your new Tub, the plumbing will need to be adjusted accordingly before any new tub can be installed

Beyond removing the old bathtub, you will also have to remove a row of tiles. Using a crowbar, the old Tub will need to be removed from the wall. Position a piece of wood between the wall of the bathroom and the crowbar. This helps to ensure the Tub is not damaged. Make sure the Tub is pulled straight out to prevent damage.

Slide the new Tub into place. Ensure the plumbing and drain holes are properly aligned, otherwise, it could cause many issues when trying to bathe. All of the fixtures and plumbing will need to be adjusted for the new Tub. The water can then be turned back on to ensure there are no leaks, and the pressure is ideal.

Maintenance and Care of Walk-in Tub
The manner in which you care for your Tub is going to determine the length of time it will maintain its beauty. Simple maintenance, like cleaning your Tub on a regular basis, can help to extend the life of your Tub. It is imperative that you use the proper products to clean your Tub.
Depending on the type of water you have in your home, the manner in which you clean your Tub is going to vary accordingly. Hard water, well water, soft water, or another type of situation is going to determine whether there are stains or deposits that settle on your Tub.
Generally, you will want to use a product that is specifically made for cleaning the types of deposits and stains that you have on your Tub. Make sure to read any indications to ensure you don't cause undue damage to the finish on your Tub.
Based upon the type of material your walk-in Tub is made from, will determine the manner in which you need to clean it. Most of the time has an acrylic or fiberglass finish.
Fiberglass is a colored type of polyester resin that is sprayed onto the mold and reinforced with tiny particles of glass. Since the coating is brittle and porous, it can discolor or dull over the course of time. Even though this coating is easier for you to clean and maintain, it can dull over time if not properly cleaned. Make sure to avoid using products that are abrasive and harsh to avoid removing the coating on the Tub.
Acrylic is a material that is heated before being vacuum-formed over the mold of the bathroom to form a waterproof barrier. Since these finishes are non-porous, they are easy to maintain and clean. Using a non-abrasive product will help to keep your finish looking its best and prevent scratches.
If the tub gets scratched, it can end up causing the material to rust and minerals to deposit onto the scratched area. Whenever cleaning your tub, make sure you are using a product that is safe to use on all surfaces.
We hope you can now choose the best solution for you. If you have questions or need more information about the walk-in Tub or about safety, please contact us.